The Ultimate Karaoke Bar Experience in Los Angeles
Sun & Mon: 6:30pm – 2am
Tue ~ Sat: 6:30pm – 4 am
Luxury Interior & Superior Sound System
Party and sing until your voice gives out at Shrine in Los Angeles! Featuring a posh, Euro-Egyptian themed interior, a first-rate sound system, and state-of-the-art karaoke, singing your heart out with friends and colleagues is so much better at our place.
Whether you plan to host private parties or corporate events in our nightclub-style luxury rooms, you and your guests won't want for dazzling lights or a booming yet crisp audio experience. Turn up the party vibes and make the fun-factor go through the roof.
Our sumptuous Korean-style dishes and our full-service bar only justify Shrine's reputation as the trendiest karaoke bar in Los Angeles. We live for celebrations, and our facilities and services perfectly reflect just that.
Can You Handle the Cheers?
Hit the Stage & Be a Star Tonight!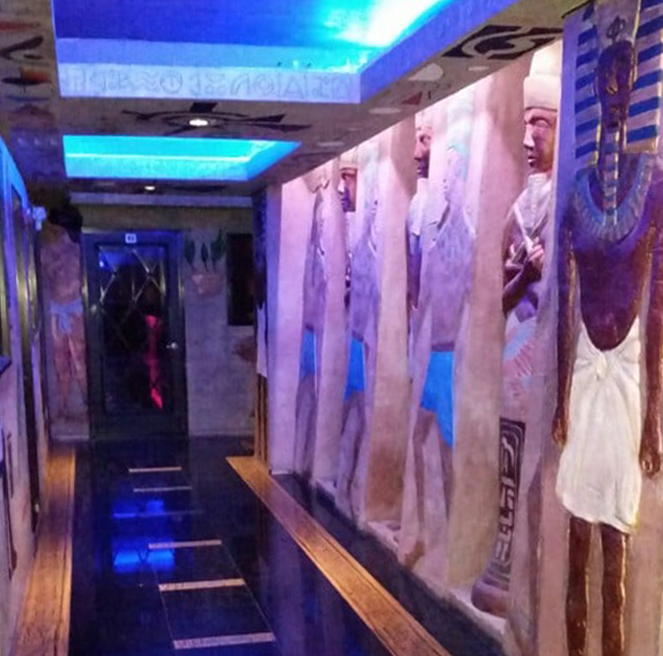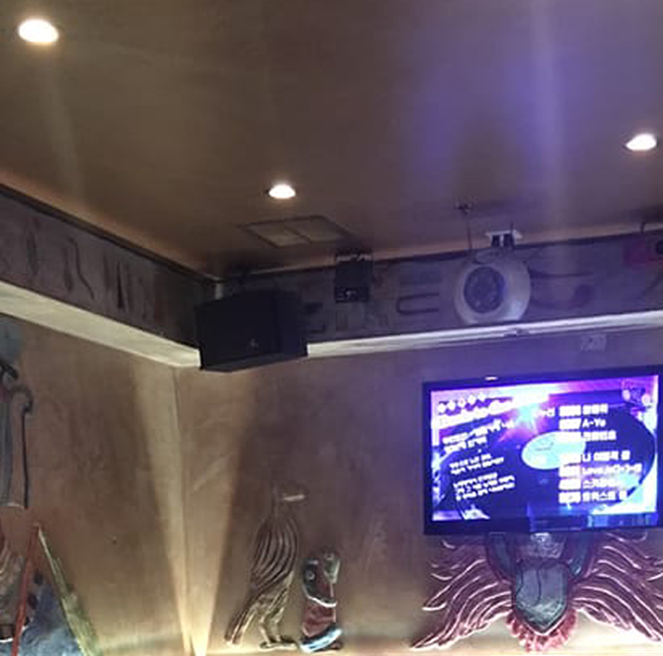 Perfect for Private Party or Corporate Event!
Open Till 4 AM, Every Day!
Stuck on where to host your office celebrations? Looking for a suitable place to let loose with friends on a Friday night? Come on over at one of LA's best karaoke bars where we'll elevate your party to legendary status. With 15 deluxe rooms to accommodate you and your guests, our professional staff is ready to serve you from 6 PM and keep the festivities going all the way to 4 AM.
About
A great time awaits you and your friends at Shrine — the perfect karaoke place for private parties and corporate events in Los Angeles. Spacious deluxe rooms, superior sound systems, and an appetizing menu promises hours of enjoyment and comfort. We'll make sure there's no lull in your festivities with our great music, delectable food selection, and excellent service from nightfall to the wee hours of the morning.
Our Menu
Check out our Menu. Shrine's Korean-style menu serves a veritable banquet of delicacies, such as Sauteed Rice Cake with Seafood, Beef Tempura with Sweet & Sour Sauce, Spicy Seafood Ramen, Bul Go Ki, and Bi Bim Bob. If you choose the Combo Menu, Karaoke is FREE until 2 AM. And let's not forget: our full-service bartender is ready to whip you up any drink of your choice.
Gallery
No other place in the Los Angeles area pulls off a high-end karaoke bar with a European-Egyptian motif aesthetic like we do. Adorning the walls of our 15 night-club style rooms are meticulously-designed images of ancient gods, mythical beasts and symbols, as well as a dazzling array of nightclub-style lighting that's perfect for dialing up the mood to party mode. Comfortable seating options and ample table space are also available.
Reservation Now!
[contact-form-7 id="20"]
Welcome to Shrine!
Shrine is the premier Korean Karaoke Room in Los Angeles. Shrine is the ideal location for corporate events and private parties. Choose from 15 nightclub style rooms that are decorated to impress! This is the local bar restaurant that takes the club atmosphere up a notch. We are the perfect setting for your next corporate event or private affair.
About
Shrine is dedicated to making every single event held at our Karaoke Pub & Lounge place one that is memorable. Find the spacious deluxe rooms that impress your guests coupled with a superior sound system! We make sure that your event is one to remember by serving delicious food, playing exceptional music and providing the dedicated staff that keeps your guests focused on fun!
Menu
Our delicious menu of Korean food is sure to please and includes a range of delectable options including Beef Tempura with Sweet & Sour Sauce, Sautéed Rice Cake with Seafood, Spicy Seafood Ramen, Bi Bim Bob, and Bul Go Ki. Karaoke is free until 2am with the combo menu! Your guests are sure to be impressed with our menu.
Gallery
We took the time to decorate each of our 15 nightclub rooms to add a lux feel. The walls are adorned with an array of mythical beasts and ancient gods. The seating and tables are comfortable, and the lighting is all about the party atmosphere. This is the space that puts everyone in the party frame of mind!
We are open every night until 4am giving you and your group plenty of time to party! We are right on trend and deliver the exceptional atmosphere for any event! Contact us to book your reservation today and have the LA party that people will be talking about for months to come!
Shrine Karaoke Bar: Los Angeles, CA
Do you need to host a corporate event or want a place for a private party that will be talked about and remembered fondly? Consider booking a karaoke party at our trendy LA private karaoke bar. We have fifteen rooms available and a team who will work hard to help you plan and execute a fun, memorable event.
Shrine Karaoke Bar is a private karaoke bar and Korean restaurant that offers a great experience for private parties and corporate events alike. Our karaoke restaurant gets great reviews for our décor, our attentive staff, our delicious food, the sound system, and the overall experience.
Los Angeles Korean Karaoke Room
We offer a great environment with a luxurious interior, delicious food, and a fantastic sound system with extended hours so that you and your group can enjoy a great experience, singing and partying the night away!
Trendy LA Nightclub for Private Parties and Corporate Events
Whether you plan to host private parties or corporate events in our nightclub-style luxury private karaoke bar, you and your guests will love our interior, the lights, the sounds, and the food and beverages. Every member of the Shrine Karaoke team works together to help you have a fun event that your guests will reminisce about for years.
Great Korean Food, Full Service Bar, and Fun Karaoke
Karaoke is so much fun. Add great drinks, a fantastic vibe, delicious food, party lights, and fantastic sound and it makes for an amazing event. We are known as a trendy karaoke bar in LA with great facilities and several party rooms to choose from. Whether a birthday or anniversary celebration, a team building corporate event, a party to entertain your clients or reward employees, or for bachelor or bachelorette parties, the Shrine Karaoke team would be happy to help you plan an event that will be remembered.
15 Deluxe LA Karaoke Party Rooms, Open Until 4:AM
Looking for the best LA karaoke bar for your corporate or private event? There are lots of reasons why we are considered a favorite karaoke place for corporate events. We operate from 6:PM to 4:AM 7 days a week with great food, delicious drinks, amazing sound systems, a fantastic karaoke selection, and fun party vibe. Call today to book your party room.